July 7th, 2009 by Ah Doe
When I first watched the Transformer Movie, I've never thought that my childhood cartoon can be turned into a violent and serious movie.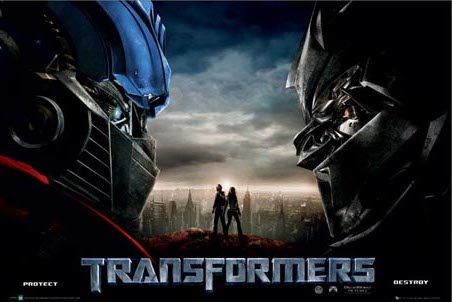 There was war, blood, sacrifice, heroism and of course, lots of actions. When the Transformers rarely speak, they DO look and behave like alien. After revising the cartoons after I watched this movie, I began to realize the difference: The transformers in the old-favourite cartoon speak a lot and to me, they are just robots in the cartoon!
Although the plot is still about "The triumph of good over evil" and "How Transformers live along with Humans", I believe that a lot of us would just want to see how Micheal Bay bring our favourite cartoon characters to life.
The theme song: Arrival to Earth is one of the best songs in the soundtrack from this movie. Composed by Steve Jablonsky, it sounds like when Optimus Prime and his team are ready for the battle.

Transformers Arrival to Earth Piano Sheet Preview
This piano sheet is in its original key, i.e. C Minor and later transposes to D Minor. You will experience a gradual step-up in key transposition from Bar 21 to 31 until it finally settles down at D Minor, which is at Bar 32.
As usual, chords are included. No lyrics because the Transformers don't sing (Except Bumble Bee who can sing with his radio).
.
.
.
I know, this is so lame. Sorry guys~
I have designed two piano sheets in fact, one simple piano sheet for all and another more rounded transcription which is meant for 3 hands. Of course, you can choose to play 2 lines out of the 3.
Perhaps a little preview on the TRIO VERSION?
As this trio version is originally designed for more instruments, Ah Doe had sacrificed her 2 sleepless nights to produce this piece of work. If you do appreciate my effort, please help to contribute to my small little piggy bank.
Price: USD 10.00
The complete piano sheet and its demo (In MP3 Format) will be emailed to you upon purchase. Should you have any questions regarding the purchase, please visit this page: How to purchase piano sheets from www.ahdoe.com? or email callme@ahdoe.com
However, if you opt for the simple version, which is free for download, you can directly click the link below:
Download link for Transformers Arrival to Earth Complete Piano Sheet.