October 13th, 2009 by Ah Doe
I am going to offend Jerry's fans if I say so: Jerry isn't good in singing, he is better in acting.
That's true, at least for me, until I heard this song.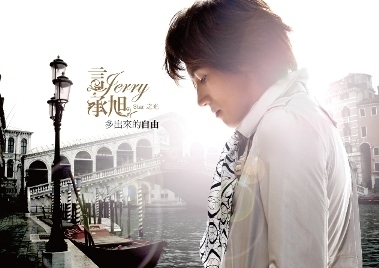 Wow wow, Jerry Yan in Venice, with Rialto Bridge in background.
I first heard this song at Yes 93.3 and thought it was beautifully written and presented. After several times, I decided to find out what this song is and who is the singer. I waited and waited, and finally one day, the DJ announced its song name and to my shock, Jerry Yan sang it! That cool and arrogant guy in Taiwanese Meteor Garden 8 years ago.
Before we talk about Jerry, I really ought to give a credit to the composer and arranger for doing a good job. Alex Fung (冯翰铭) is that composer who wrote many songs for a number of pop singers such as Andy Lau, Twins, Andy Hui etc. This time, Jerry improves a lot in his singing. His presentation surprised me and convinced me that he put a lot effort in his singing career.

Thank You by Jerry Yan Piano Sheet Preview
About this piano sheet:
1) It's in original key, Eb Major
2) Chords and lyrics included
This song is a good choice for drama theme. At some point, the chords and melody resemble typical Korean Drama soundtrack. Ah Doe recommends you to play it gently. If you manage to play it well, perhaps you'd impress the girl you like. 🙂
Download link for Jerry Yan's Thank You Complete Piano Sheet.