May 8th, 2012 by Ah Doe
A Simple Life (桃姐) proves that a good movie does not necessarily need overloaded computer graphics and hightech gimmicks like 3D filming. The storyline itself is the whole selling point and it touches my heart.
Andy Lau (刘德华) and Deanie Ip (叶德娴) don't seem like "acting" in the movie at all, and that should be the reason why this movie swept many trophies in several film awards.
Of course, the credit should also be awarded to the director of this move, Ann Hui (许鞍华).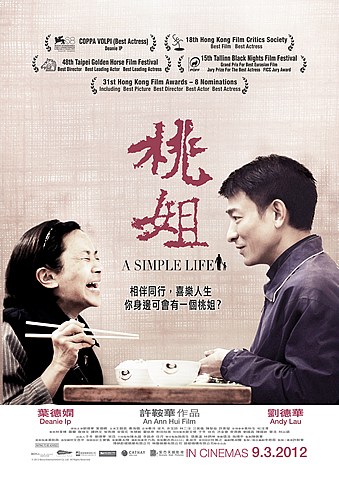 The theme song starts playing at the beginning of the movie. It's gentle, soothing and touching.

A Simple Life (桃姐) Theme Song Piano Sheet Preview
About this piano sheet:
1) No lyrics, purely instrumental.
2) Chords included.
3) It's in C Major.
Click on the "Play" button below to listen how it sounds on your piano.

The link for the complete piano sheet for this theme song is as below:


.
Download link for A Simple Life (桃姐) Theme Song Complete Piano Sheet
.